If you do not own a custom domain, you can purchase a domain from any domain name provider, or you can buy a Google domain or a GoDaddy domain from the Hosting tab in your Project Settings.
Before getting started
Before you get started with this tutorial, make sure you have added a hosting subscription to your project.
To purchase a domain through Webflow:
Choose a domain provider
Search for and buy a new domain
‍Set a default domain
Publish your site
Step 1. Choose a domain provider
Under Buy new domain in the Custom domains section of your hosting settings, choose whether you want to purchase a Google domain or GoDaddy domain.
Need to know
Step 2. Search for and buy a new domain
Follow the instructions in the pop up to find a domain name and purchase it.
You'll need to sign in to your Google account or GoDaddy account, or signup for a new account if you do not have one.
Note
You may need to add billing information if you've never used Google Checkout. This isn't connected to Webflow's billing system.
Once you've bought your domain, you'll be brought back to the Hosting tab of your Project, where you'll see that the domain(s) has been added.
Make sure you got both your naked and full domains
Make sure that both your full domain name and naked domain name are on the custom domains list.
A full domain name includes www and looks like this → www.example.com
A naked domain name looks like this → example.com
SSL hosting on Google domains
If you decide to switch SSL ON for your Google domain, go to your DNS settings in your Google Domains account to make the DNS changes. You can quickly jump to these settings by clicking the cog icon next to your domain in the hosting tab.
Now, delete your existing DNS records. Because you connected your domain with Webflow's Google Domains integration, your current A record configuration will be listed under "Synthetic records." Expand this section and delete your existing configuration.
Then, follow the Connecting a Google domain tutorial to add the correct DNS settings.
Step 3. Set a default domain

Setting a default domain will forward all traffic to that domain. For example, if you added www.mywebsite.com and mywebsite.com, and select www.mywebsite.com as your default domain, all traffic for your homepage will be directed there.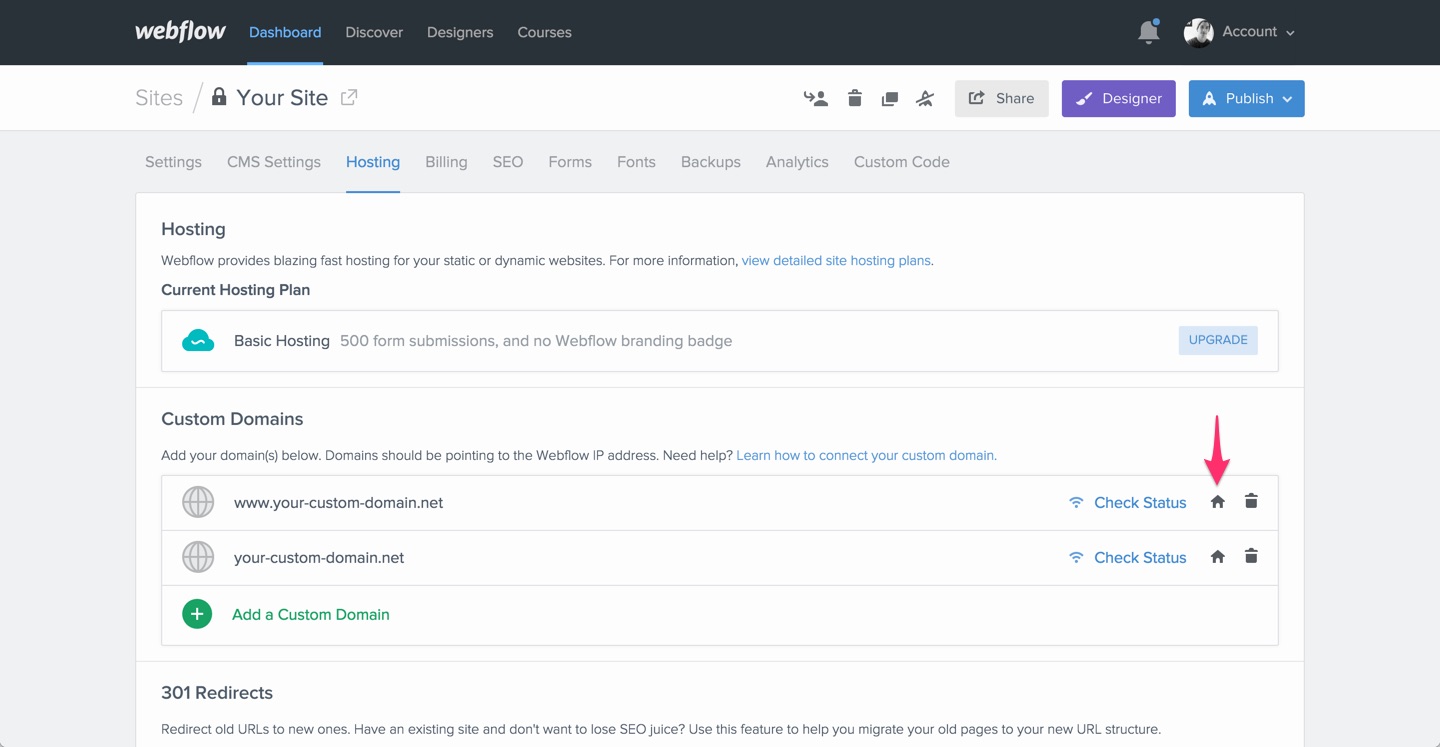 Step 4. Publish your website
The final step is to simply publish your website! You'll now have the option to publish to the custom domain you just added!