With Client Billing, you can automatically bill your clients every month — and set the price they pay you for hosting. We'll even send you your tax info to make filing a breeze. After you create your Client Billing account, you can start billing clients for each of your projects.
Before you get started
In this lesson
Creating your Client Billing account
‍Setting up clients
Creating your Client Billing account
Go to Account → Billing tools and create a Client Billing account.
Select your country
Fill out general information
Submit your ID document
Fill your bank account information
Need to know
You must have a verified Webflow account in order to set up Client Billing
Select your country
Be careful to pick the right country because you can't edit this later. (Unless you delete your account).
Fill out general information
Currency — Pick the currency your bank is set up to accept. This isn't the currency your clients will be charged in, just the one we'll pay you in. So if you're a British designer working for Swedish clients, pick pounds, not krona.
Account details — Fill out your information.
Personal Info - If you're an individual, just enter your business name, personal information, and move on. If you're a company, we'll need your business tax ID and your personal ID number. This is used to provide you with a 1099-k tax form.
Your "Personal ID Number" is your SSN (United States) or SIN (Canada). If you live in another country, use the appropriate ID number for your nation.
Privacy & security note
We never store your Personal ID Number on our servers. We encrypt your details before sending them to our payment gateway, where they're used to verify your identity.
Submit your ID document
To verify your identity, upload a high-quality photo of your government-issued identification. This can be your passport or driver's license.
If you don't have this handy, you can skip this step and finish later.
Privacy & security note
We never store your ID Documents. They will be passed directly to the banks to verify your business information.
Fill your bank account information
The best part of Client Billing is that you set how much you charge your clients every month. That way, you can include any ongoing maintenance fee you want on top of their hosting costs, giving you extra income every month.
That's why, we ask for your routing number and account number—so we can deposit your profit directly in your bank account. If you live in the EU, you'll see a form to submit your IBAN account number.
Privacy & security note
We never store or send your bank account information over the internet.
That's it! Now, you can head over to your Project's Billing tab to set up your client.
Setting up clients
After you set up your Client Billing account, you can now set up client billing on any one of your Webflow sites from Project settings → Billing → Client Billing.
Enter client information
Enter charge details
‍Send the payment link to your client
‍Review your earnings
Enter client information
We'll need basic personal information about your client, such as their name, email, and phone number.
Enter charge details
Here, you'll enter how much you'd like to profit from this site's hosting subscription, plus some details about the service you're charging for, and the name that will appear on your client's credit card statements.
Learn more about how these payments work and who gets to pay the credit card processing fees and the platform fee.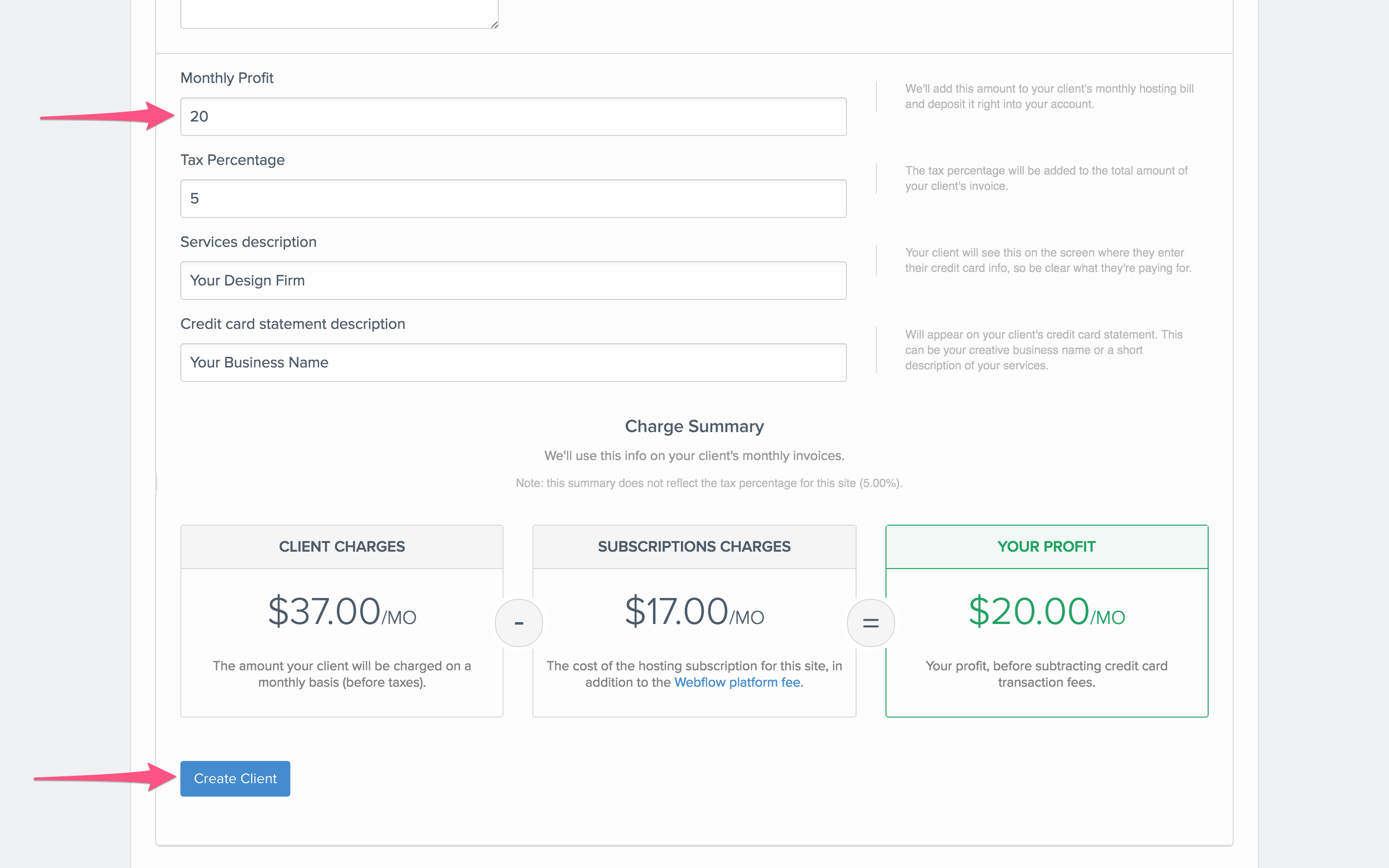 Need to know
You're limited to 22 characters in the credit card statement field because credit card companies only allow very limited characters for this field (most use 26, but some only allow 22).
Send the payment link to your client
Now that you've added all your client's information, you can send them the non-branded payment link to a page where they'll add their payment info.

This is what your clients will see when they visit the payment link you sent them:
Whitelabeling Client Billing
You'll need have a Pro or Team accounts to whitelabel Client Billing payment forms.
To replace the Webflow logo on the payments page with your own logo, you can upload one in Project settings →CMS → Editor Branding.
After your client adds their payment info, all new hosting charges will be billed directly to their credit card. If you're transferring your own hosting over to Client Billing, the first charge will take place at the end of your site's billing cycle (within 30 days).
Review your earnings
After you set up a customer, and they add their payment info, you'll see a list of invoices you can pass along to the client.
To see all the customers you're managing with Client Billing, and review your earnings, head to Account → Billing tools.
Read next