With CSV import, migrating from WordPress to Webflow is easier than ever. This tutorial will walk through the basic steps to migrate existing WordPress database to a Webflow CMS site and point out resources to help you out.
Before getting started
Migrations requirements will vary from site to site — but this guide should provide a useful example of one way to move to the Webflow CMS.
You have limited CMS items on the Free or Enhanced staging plan. To import more items, you'll need to add CMS or Business hosting to your site. Learn more about the CMS item limitations on our various plans. To test CSV import for free, use a CSV of 50 rows or less.
In this tutorial
Migrating content from WordPress to Webflow happens in 3 basic steps:
Downloading a WordPress plugin to export your content in a CSV (we used WP CSV, but there are many options)
Creating a Webflow project and adding hosting (if necessary)
Uploading your CSV and configuring your Collection structure in the Webflow CMS
Working with the CMS. This tutorial shows you how to import and map the database. Next, you'll recreate the design and pages in Webflow.
Step 1 — Export your WordPress content
By default, WordPress exports your content in XML format, but there are many plugins available that let you export specific content types and fields as a CSV.
For this example, we are going to use WP CSV (but there are many other options).
Downloading the plugin
To add the plugin to your site, find the Plugins tab in the left panel of your WordPress admin dashboard, then click "Add new" and search for WP CSV.
Activating the plugin
Once the plugin is downloaded, you need to activate it on your site in order to use it.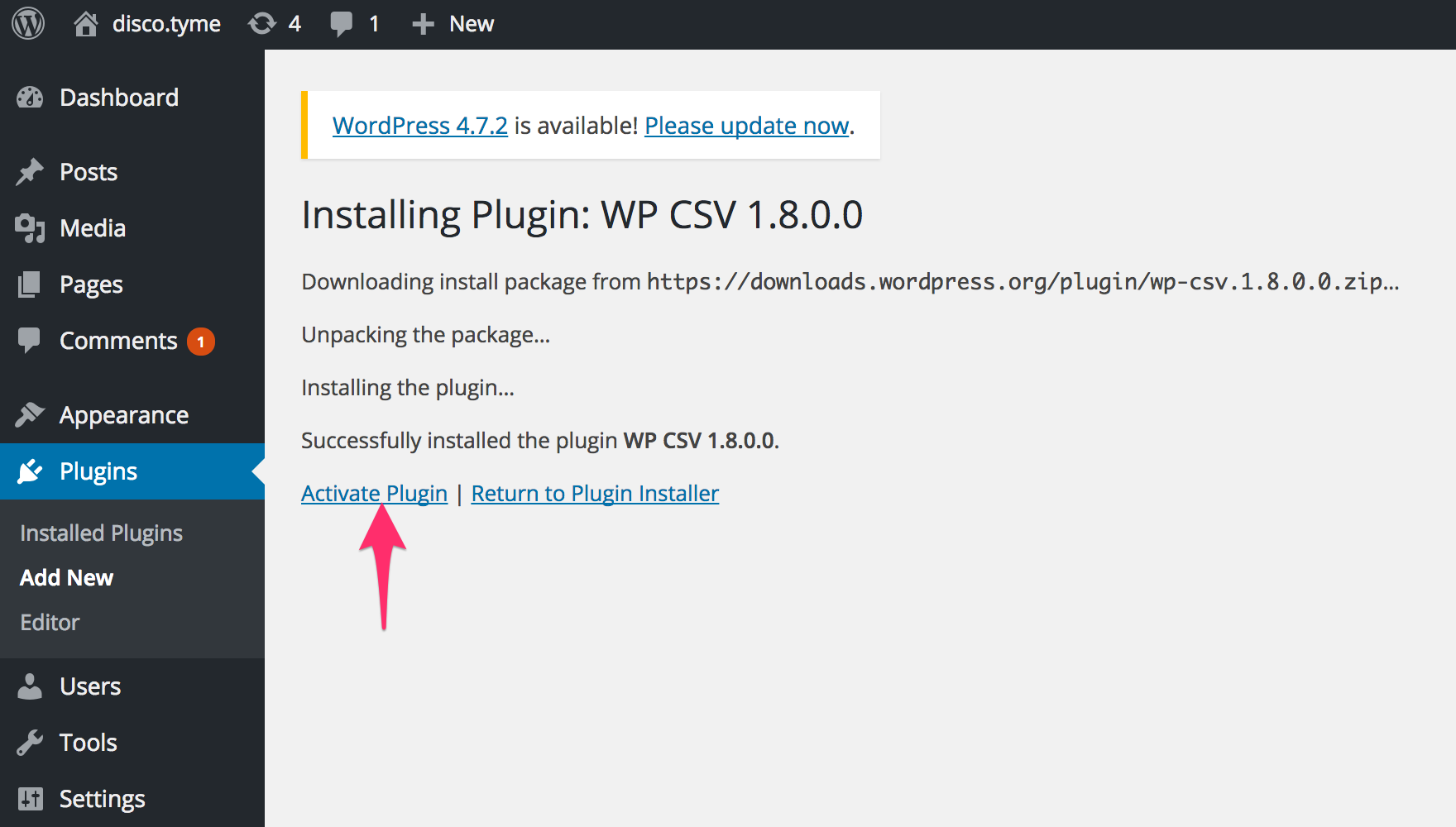 Configuring your export settings
Now that the plugin is installed and activate, you need to go to the WP CSV settings to specify what content you want to exclude from your export. Once you configure your export settings, be sure to save.
Downloading your CSV
The final step is hitting Export and downloading the CSV of all your WordPress content, which you can then import to Webflow in the next steps. To start the export process, go to the Export panel in the WP CSV plugin, then click "Export." Your CSV will download to the browser when finished.
Step 2 — Creating a Webflow project
If you don't already have a Webflow account, go ahead and sign up. You can experiment with CSV import for up to 50 items for free, and will need to add CMS or Business hosting to go beyond this. For full details on the features of each hosting plan, view our pricing.
Step 3 — Importing your CSV to Webflow
Once you've created a site and added hosting, you can import your content to a CMS Collection (which means a content type). To do this, open the Collections panel and click the new Collection button.
The next step is naming your Collection and setting the URL path for each item. You don't need to define your fields yet — you can do this during the mapping phase.
Once you've created the Collection that you want to add content to, click the Import button.
Now drag or upload your CSV into the import modal.
Once you've uploaded your CSV, you'll need to specify whether or not the first row is a header row or not. Setting the header row will exclude it from being imported as a CMS item.
Mapping CSV fields to CMS fields
Once you've set the header row, you need to map the fields from your CSV to fields in the new Collection. By default, each item has a slug field and a name field which can be mapped to. All other fields can be created on the fly as you're mapping the content.
Once you've mapped all your fields, click the "Import" button to move your content into the CMS. Depending on the size of your CSV, this can take a few seconds.
Working with the CMS
Now that you've got your content in the Webflow CMS, you can start designing with it right on the canvas. If you're new to the Webflow CMS, you can check out our CMS video course or read the documentation to get started.